Rebecca and Josh might be newly entangled in a romantic relationship, but that isn't making the show any less chaotic. The new theme song even says that there's still more to deal with in terms of Rebecca's life and mental health. I do miss the old theme song, but I'm sure that this new one will grow on me in time. It's not bad, just different. The more I listen to it, the more I appreciate it and recognize how it shows the character development that Rebecca has gone through ever since the beginning of the last season.
The main status quo for the series definitely changes, and not just with Rebecca and Josh. Greg is going to a support group to deal with his alcohol addiction, White Josh has moved in with Darryl, and Paula is unsure about continuing to help Rebecca with her various schemes. Again, I'm surprised by how emotionally compelling the subplots were. To be honest, I had forgotten how poignant it could be.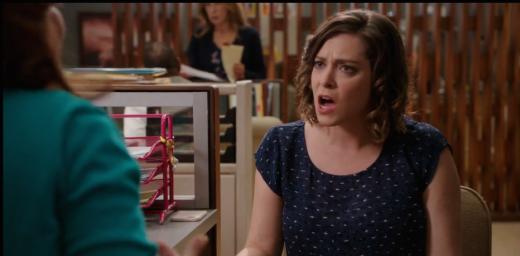 Rebecca isn't happy with Paula's decision.
Thankfully, the show is as funny as ever. I missed the show's particular weird brand of humor. It's kind of like if you took
30 Rock
's sense of sardonic humor and mixed it in with a stereotypical romantic comedy. Every cast member of the show is funny, and I do wish that some of the more recurring characters had more than a few minutes of screen time in the episode. Still, it's just the first episode of the new season, I'm sure that they'll have more jokes and important roles to play in the upcoming episodes.
The songs in this episode didn't get almost instantly stuck in my head like some of the other tunes, but my mind was more on the visuals. The production values in the first song, "Love Kernels", were spectacular, using multiple costume and scenery changes. In fact, Rebecca breaks the fourth wall at one point to say that they blew the entire budget on that one song. Darryl would have to be replaced with a broom. Also, Rebecca is a cactus.
Does this even need context? It's funny enough on its own.
The other song, "We Should Definitely Not Have Sex Right Now" is a duet between Rebecca and Josh that delivers exposition about the plot and makes jokes about heist movies. The connection between the two is that there's always a sequel. I question the accuracy of that statement, seeing as
Tower Heist
hasn't gotten one.
Crazy Ex-Girlfriend
can be seen on the CW channel or, if you don't have it, the official CW website or online app.
Zachary Krishef is an evil genius. Do not question his knowledge of Saturday Night Live trivia or Harry Potter books.