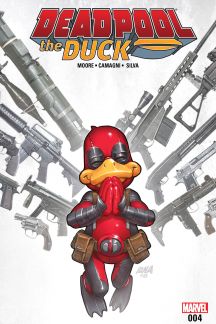 Looks like Deadpool and Howard finally found their respective happy place. I'm also in my happy place, because Howard finally gets to take control in this issue!
It's awesome seeing him become the Mallard With The Mouth, but I do have to question why he assumes his butt-kicking skills are a result of Deadpool's muscle memory. I don't know, maybe the body-teleportation briefly messed up his Quack-Fu powers. It definitely helps to balance out the sad bits of information from his life back home.
Unlike the previous reviews, I don't have anything truly in-depth to comment on in this review. The art is great and the plot is racing towards a feathery climax. Here's hoping that this can still somehow lead to a spinoff with a Deadpool The Duck clone! (That's my new theory for the vomit from the past few issues. They'll turn into clones of the fusion, possibly Baby Groot-sized. Whatever's funniest.)
Deadpool The Duck
#4 is written by Stuart Moore, drawn by Jacopo Camagni, colored by Israel Silva, and lettered by VC's Joe Sabino. You can find it at your local comic book shop.
Zachary Krishef
is an evil genius. Do not question his knowledge of
Saturday Night Live
trivia or
Harry Potter
books.