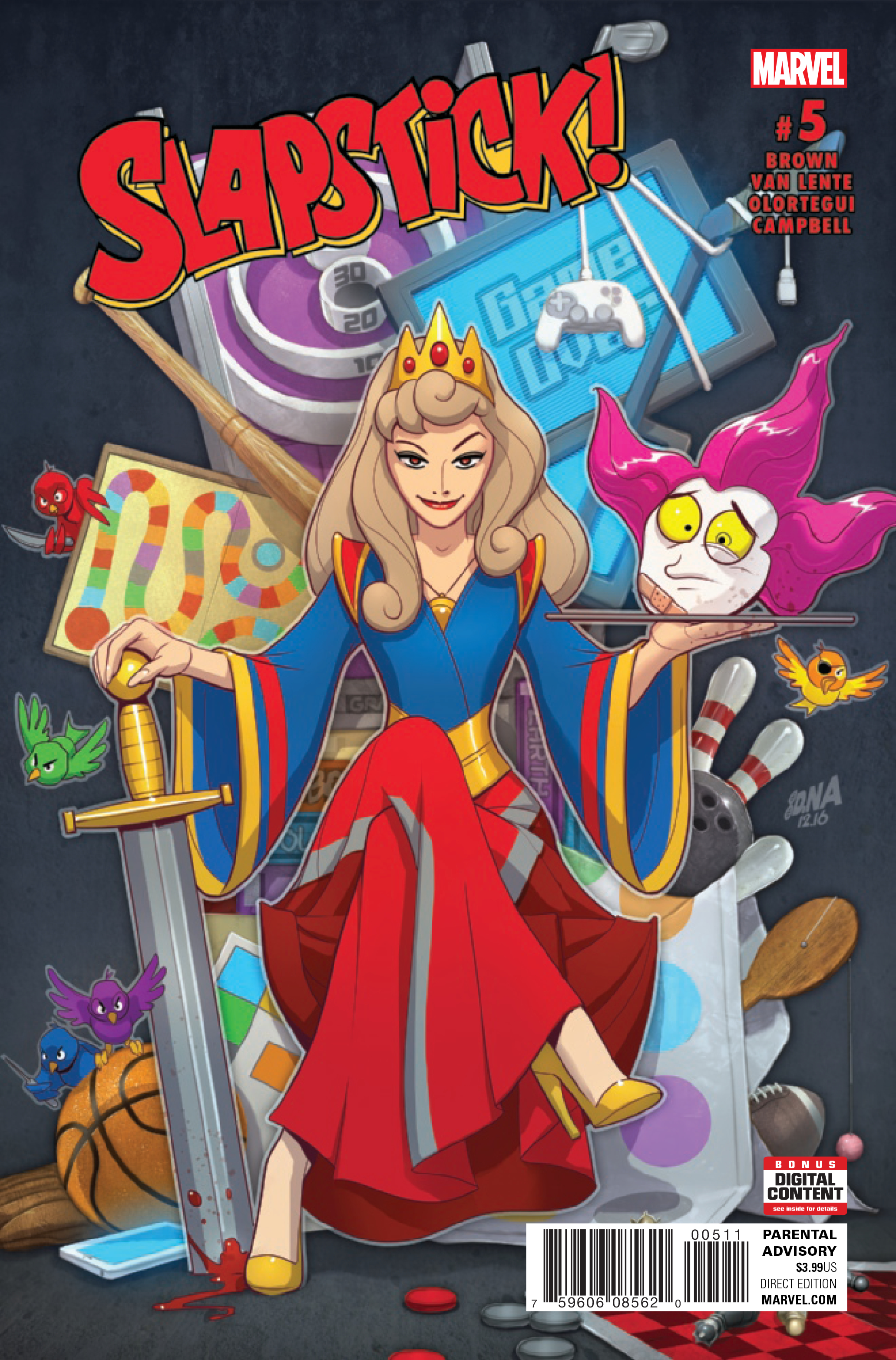 Slapstick #5
is completely and utterly amazing. I've mentioned before that the comic feels like an appropriately twisted homage to classic cartoons, but this issue definitely ramps it up. We finally get to see Dimension Echh again, albeit a slightly altered version, and every single resident is a character from a cartoon show. They have enough changes to not warrant a visit to Marvel's legal team, but you can obviously tell what the intention is. I read an interview on
Marvel's website
stating that Diego Olortegui primarily worked on that and he deserves applause for doing such a wonderful job.
Not pictured: Billy from The Grim Adventures Of Billy And Mandy. Grim is on the upper right.
Seriously, in just one panel, you can see Invader Zim and Johnny Bravo. Other cameos include
Phineas And Ferb
's Phineas Flynn, a Powerpuff Girl, Oscar The Grouch, Mario, and many, many others. There's even a generic Disney princess, complete with a pretty good song. Each and every character is drawn in their own distinctive art styles, making an incredibly impressive feat. Every page is a treat to look at, with new gags popping up every time you take a look.
The actual story is also a blast. The new location has even more potential for jokes, and Fred Van Lente and Reilly Brown make the most of it. I have a feeling that
Slapstick
might be ending soon, so be sure to read the previous issues before you read this. Catch up on all of the gloriously bizarre jokes!
Slapstick #5
is written by Reilly Brown and Fred Van Lente, storyboarded by Reilly Brown, drawn by Diego Orlotegui, colored by Jim Campbell, and lettered by VC's Clayton Cowles. Crystal Skillman wrote the awesome song. You can find it at your local comic book shop.
Zachary Krishef is an evil genius. Do not question his knowledge of
Saturday Night Live
trivia or
Harry Potter
books.