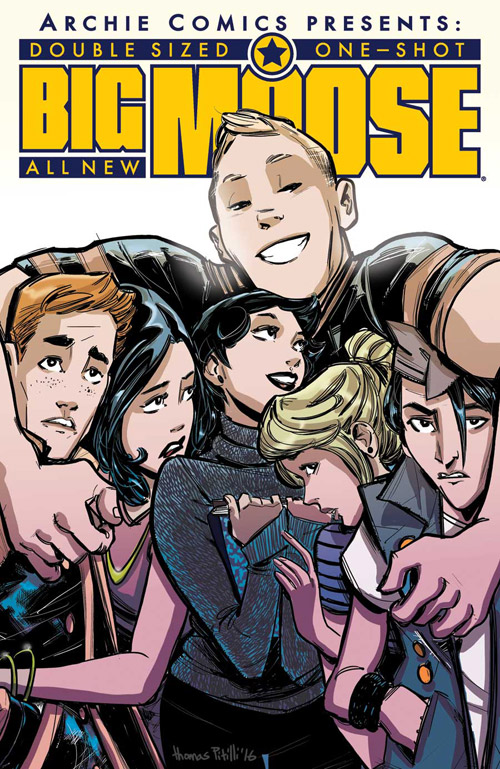 So far, Archie Comics, Inc. has a great track record when it comes to revamping the world of Riverdale. None of the new series or one-shots have been bad. Even issues that I didn't really like as much were still fine. Because of this, I've been especially excited for Marmaduke "Moose" Mason's special one-shot to arrive. You might not think it, but Moose is a surprisingly complex character. He's not just a stereotypical 'dumb jock.'
He's devoted to his girlfriend, Midge, loyal to his friends, and surprisingly sensitive. Some of the best Archie stories have also devoted some time to his struggles with school, at one point revealing that he had dyslexia. Thankfully, the special does an excellent job of exploring the different facets of his personality.
The first story is an epic battle. Not since Superman's original encounter with Doomsday has a more suspenseful event been documented in comic form. Forget Norman Osborn, forget Mephisto, this is the tale of how Moose defeated a vending machine. This one is more humor-focused, with Moose desperately trying to nab a snack before he goes bananas.
Let's be honest, we've all had these moments.
Unfortunately, he doesn't have any money for the vending machine and Midge doesn't want him to ruin his appetite before their romantic dinner date. It ends up turning into a raucous Looney Tunes film at one point. In a scene that feels like it was tailor-made for a cartoon, Jughead tricks Moose into giving him his lunch for the next week, in exchange for a dollar bill. Way to be a jerk, Jughead. Next time, just get the recipe! Even after that, the machine itself won't accept the money. Will Moose finally get a snack? Can Jughead escape from Moose after the trick is revealed? Why doesn't Midge just keep some vegetables for Moose in her locker or something? Only one of these questions will be answered!
The second story is more dramatic, feeling like a natural extension of Moose's portrayal in the
Reggie And Me
miniseries. Here, he's shown during an especially busy week, trying to balance multiple responsibilities. Among them, he wants to give Midge a special surprise for their anniversary, pass a challenging essay for his English course, and help his family out. Unfortunately, juggling everything is causing some unneeded pressure. In fact, some scenes heavily imply that this version of the character does have dylexia, as he mentions the words in a book for English squiggling around when he tries to read them.
It also expands on Moose's more violent tendencies. Instead of being written as someone who will beat up anyone who even glances in Midge's direction, Moose genuinely doesn't like hurting people. He'll defend himself, but that's it. Mainly, he makes an exception for Reggie, because he's typically being malicious and causing trouble. I don't want to ruin the rest of the story for you, so I'll conclude by saying that it expertly combines a layered look at Moose's character with heartwarming moments and jokes. If Archie releases any more one-shots, or dare I say it, a solo series, then I hope it has the tone of this comic.
The third story is fairly short and it features Moose's new friendship with a freshman at Riverdale High. I didn't like it as much as the other stories, but it's still good. The art felt slightly odd in the beginning, but I quickly got used to it.
The
Big Moose One-Shot
has three stories. "Moose Vs. The Vending Machine" is written by Sean Ryan, drawn by Cory Smith, colored by Matt Herms, and lettered by Jack Morelli. "Have It All" is written by Ryan Cady, drawn by Thomas Pitilli, colored by Glenn Whitmore, and lettered by Jack Morelli. Finally, "The Big Difference" is written by Gorf, drawn by Ryan Jampole, colored by Kelly Fitzpatrick, and lettered by Jack Morelli. You can find the double-sized special at your local comic book shop.
Zachary Krishef is an evil genius. Do not question his knowledge of
Saturday Night Live
trivia or
Harry Potter
books.